Welcome to Smart Toys & Books!
THE ULTIMATE PARTY PLACE!
LEARN, SHOP, PARTY, AND PLAY!
We are a small, family-owned business in the West Knoxville area. We offer unique toys that are educational and may not be found at most big box stores. We take pride in offering books and toys to the families of our home community that enrich children's lives and spark their creativity and imagination. We have an interactive, indoor play area where families can enjoy playing and learning together. We offer birthday party packages that include 1 hour of private play & time in one of our super fun party rooms. We provide individual help to anyone that needs recommendations for gifts or what may be the best product for specific age groups. We also offer complimentary gift wrapping. At the end of the day, we love seeing the joy on our families faces when they come to our shop. That is why we do what we do! 
With over 25 years of experience in the toy industry, we know  what will spark the imagination, create excitement, stimulate learning –  all a day's work in the life of a child. We provide a wonderfully  complete selection of high quality games, books, toys and dolls that  fascinate, challenge, enlighten and delight children of all ages.
We are truly about the best of the best! Come experience an atmosphere of maximum fun  in a store that is easy to shop – with staff that is always available, and by displays and demonstrations that are truly "hands on!" We promise to deliver superior customer service, through our individualized attention, customer incentive programs and complimentary wrapping.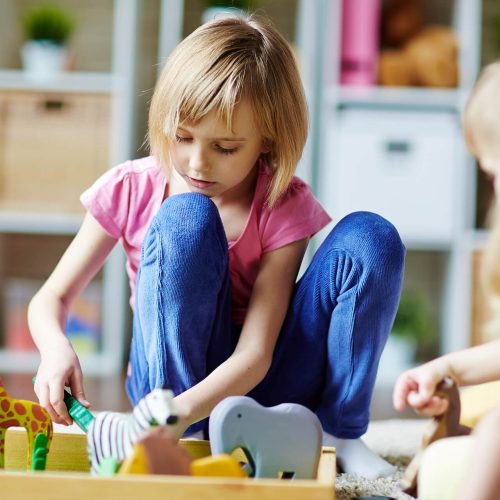 Creative Art with Miss Shelley
Painting on canvas, creative clay and more is happening in the West Knoxville Art Studio at Smart Toys & Books!
Professional artist & elementary art teacher, Miss Shelley, offers fun kids art classes and summer art camps that educate, inspire, and entertain students as they create impressive art that's fused with individual expression and a contemporary trend.
In every Kindermusik class, you're welcomed into a playful and nurturing environment where your child will experience music of varying styles, genres, and cultures.They'll interact with other children and engage in movement, rhythm, and vocal activities that develop far more than just music skills.Our approach to early childhood education and award-winning, research-based, and developmentally appropriate curricula prime children for success in school and in life.
My little girl LOVED playing during free time today!!! The lady who checked us out when we got a few birthday toys at the end of our time was super nice, awesome customer service!!! We will be back for sure!!!
Amazing store, great staff. Mrs. Shelley's art classes are the best!
Smart Toys and Books is one of my favorite stores in Knoxville! They hand pick the best toys that are unique and fun and also do so many events and engaging things in their shop to spur children's imagination and creativity! A Knoxville gem for sure!
We ALWAYS enjoy spending time @ Smart Toys and Books! The staff is super friendly and the play area is extremely clean!